Window Advertising NYC
Every window is potential real estate for your brand, your artwork and your advertising. There is a variety of products available to take advantage of unused window space and we print and install all of them here in NYC. Window advertising is dynamic and eye-catching, as it's at street level, right in front of your customers and often doesn't require any permits especially if you are using your own store's windows. New York is allowing more and more rental properties, construction sites and unused office space windows to be rented for advertising.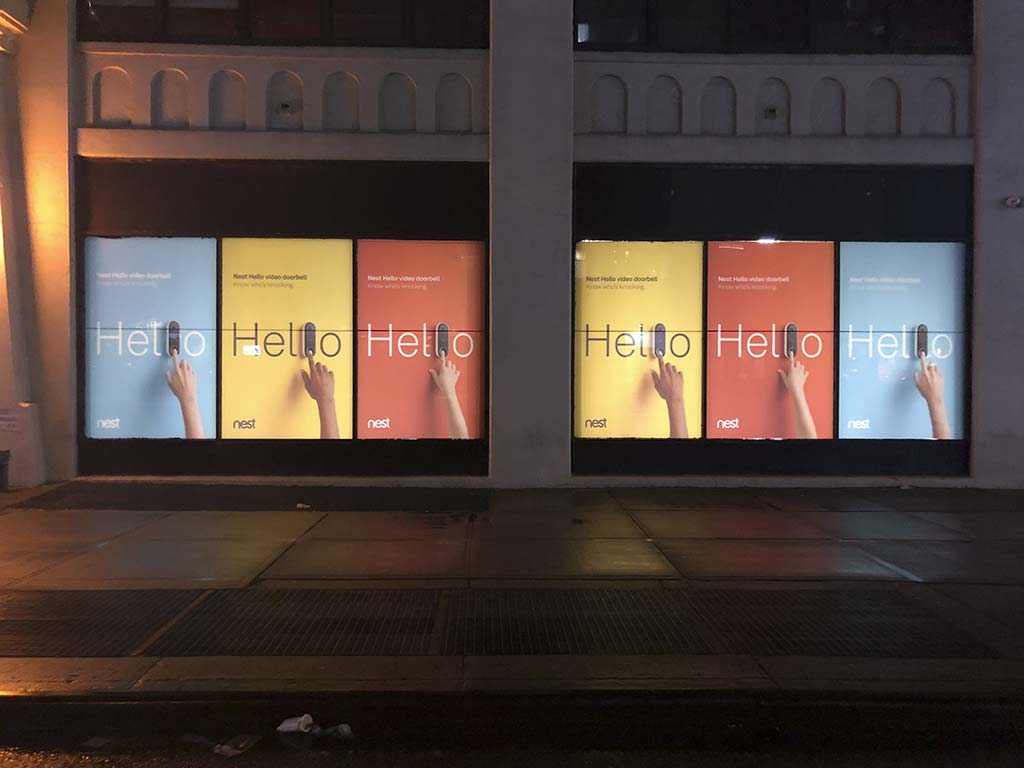 Printed & Installed on-site for you
We print & install a wide range of vinyl and adhesive products for windows including window clings, window posters, adhesive vinyl stickers and posters. We've invested in state-of-the-art large format digital and offset printing presses which allow us to print rich and vibrant colors at the highest quality, with exceptional speed (all our window products can be printed same day!). We use only the highest quality products including 3M high-performance vinyl and 3M laminating film. Our products are ideal for both indoor and outdoor use and one of our expert team can help guide you to find the exact product for maximum impact in your windows.
Trusted by the world's most recognized brands
We're the printing choice of over 1500 companies & individuals. With +20 years experience in large format printing, OOH campaign printing and service, we're the printing team you've been looking for.
Fast Turnarounds
We offer the widest range of same day printing products in NYC.
Free Shipping
Piece of mind with free UPS delivery throughout USA.
Expert Support
Our team has over 20 years experience in large format printing, campaigns & delivery.
Conveniently located
Pickup directly from our convenient location in Brooklyn, NYC.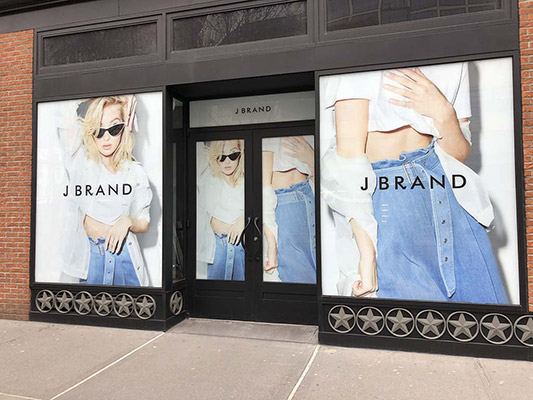 Window Graphics NYC
Window graphics (also known as window stickers or window decals) are images, graphics, or letters that are printed on or cut out of self-adhesive vinyl material and applied to any type of window or glass surface. Vinyl lettering, transparent window decals, opaque window decals, perforated window decals, and frosted window decals are some of the several types of window decals available. Each decal is made to survive rain, sunlight, and other elements.
Use on windows, storefronts, glass doors, mirrors, or any other smooth glass surface indoors or out. Store hours, business names, logos, items, sales, advertisements, and contact information are commonly displayed by businesses, offices, restaurants, and other stores. They can also be used to display your favorite logo, team, band, or whatever else you want.
Installation: The majority of our window decals are simple to apply and can be done in a matter of minutes by yourself. On the product page for each window decal, you'll find step-by-step instructions for installing it. To get product-specific installation instructions, select "Learn More" on one of the products mentioned above.
Wash your window decal using a moist, non-abrasive rag on a regular basis to keep it in good condition. This will assist keep the decal's quality and longevity by removing dirt and grime off it. Power washers should not be used on windows that have a window decal. These decals can survive for several years if properly cared for.
Window Stickers FAQ
What are the advantages of using window decals?
Window decals are a popular and adaptable signage option for both large and small businesses. Our personalized window decals have an adhesive backing and are semi-permanent. For businesses and households, decals are a cost-effective and easy-to-install signage alternative. Our personalized window decals are constructed of a high-quality poly vinyl with an adhesive backing. These decals are simple to apply to homes, storefronts, and any other glass surface in commercial or non-commercial situations. They are semi-permanent in that they may be removed, but they are only used once and cannot be reused. With careful care and upkeep, our window decals can last 3+ years indoors or outside after installation. Vinyl letters, transparent window decals, opaque window decals, perforated window decals, and frosted window decals are the five basic types of decals.
What do I need to know about window graphics?
Each of the five decal kinds is a window signage option that comes with an adhesive backing. The two main differences are the level of transparency provided by each and the location in which they can be used. Clear window decals are transparent in the sense that they are see-through anywhere they are not printed. Similarly, opaque window decals are exactly what they sound like: they're opaque since they're printed on a material that's opaque by default. As a result, even if you order a blank piece of material, the opaque decals will not allow you to see through them. Because the material has a 50:50 ratio of perforated holes to solid material, perforated window decals combine the two. As a result, perforated decals provide one-way visibility, which is ideal for shops that want to advertise their brand while still being able to look out the windows. Individual letters and digits are cut from a piece of solid-colored vinyl to create vinyl lettering, which has no background. Frosted window decals have a translucent backdrop, which allows you to see light and the shapes of objects through them while maintaining opacity. Only vinyl lettering, transparent decals, and frosted decals can be placed on the inside of the window facing out due to the material on which they are produced. This is useful for keeping the decal out of harsh weather or those who could deface or destroy it if it were placed on the outside of a window. Due to their substance, opaque and perforated window decals cannot be applied on the inside and facing out. The term "inside glass" refers to placing your decal on the inside of the window with the printed section looking out. Window signage alternatives provides a comprehensive review of these variances.
Is it simple to apply the decals? What about decals that are extremely large?
Installation instructions can be found on each product's page, however they generally follow the same format. Before applying your decals, clean the glass of any grime or dirt and allow it to dry. After that, for wet-install decals (clear window decal, opaque window decal, frosted window decal), spray the back side of the decal with water and one or two drops of mild detergent after removing the backing. On perforated decals and vinyl lettering, no water of any kind should be used. Place the decal on the dry window surface once it has been wetted, and use a squeegee to remove any extra water. The adhesive will activate once the water has dried. It will take more than one person to effectively put large decals. Do not allow the decal's adhesive side, wet or dry, to touch or adhere to other sections of the sticky backing. As a result, it is recommended that large decals be installed by many personnel.
Is it possible to reposition the decals?
The clear window decal is the only one that can be repositioned. Repositioning is not possible with vinyl letters, opaque decals, perforated decals, or frosted decals. While there is some wiggle room and forgiveness when they are first mounted, you will not be able to adjust your decal once the adhesive backing becomes active. Static clings are a good option if you require anything that needs to be repositioned frequently.
Is it tough to remove the decals? Will my windows be ruined?
In general, the decals are simple to remove. The decals may usually be simply pulled away from the glass. To remove any remaining adhesive residue, a razor blade and window cleaner are usually required. A flat edge, such as a squeegee, might aid ease the peeling away of decals that are exceedingly difficult to remove from the window.
What's the difference between window decals, wall decals and static clings.
Wall decals and static clings are not the same as window decals. While both window and wall decals are constructed of sticky vinyl, the former is a semi-permanent solution that cannot be moved once the backing has been applied (aside from clear window decals, which are reusable and repositionable). Wall decals, on the other hand, are made to be repositioned frequently and are adhered on the wall with a low-tack adhesive. Despite its versatility, wall decals are most commonly utilized on interior walls. Clings, on the other hand, have no adhesive backing and rely on suction to adhere to a window. To apply the cling and remove any air bubbles, simply press firmly. A cling, like a wall decal, can be removed, adjusted, and reapplied as many times as needed as long as the mounting surface and sign are clean and dry.
Is it important the sort of decal I use?
Yes! What style of window decal you choose depends a lot on the type of visibility/transparency you want, where you want it placed, and what the end goal of your sign is. To determine which one you require, go to the "All Window Decals" portion of this website.
Is the term "window decals" synonymous with "window stickers" or "window graphics"?
In the signs sector, the word "window sticker" is rarely used, although "window graphic" is frequently used. The phrase "window decal" or "decal" is by far the most prevalent. However, if you're just talking about a sign with an adhesive backing for glass surfaces, we're on the same page!
Is it necessary for me to design them differently depending on the sort of window decal I select?
Both yes and no. Even though a transparent decal has less contrast than an opaque or perforated decal, we will print it using a process known as "flood white." This simply means that a white print will be placed behind your design to ensure that the colors in your design remain brilliant. Because your sign is printed on clear material, this will not be visible, but it will ensure that the printed section is clear and sharp. You should follow basic design best practices regardless of the sort of decal you use. Limit the quantity of text on your sign, use high-contrast colors (especially if the window is tinted or the sign needs to be visible from a distance), make sure your sign design and size are large enough to be seen from a distance if necessary, and so on. If you're not sure if your decal will work, contact us for assistance or fill out our form for free design services.
Our Guide to the types of Window Graphics
Frosted Vinyl
An image or graphic generated from a sheet of translucent vinyl material with a "frosted" or "etched" appearance is referred to as a frosted window decal. These decals are meant to permit light through a window while being opaque enough to provide seclusion. You can choose between frosted letters or a standard frosted window decal. Your artwork will be printed with UV ink on frosted vinyl material for frosted window decals. Your design will be carved out of a sheet of frosted vinyl material with frosted writing. Each design option presents your own message or graphic in a different way. With proper installation and care, custom frosted window decals can last up to five years and create an attractive, professional appearance at a cheap cost.
Frosted vinyl window decals are commonly used to display company logos, market products and promotions, provide general business information, and provide privacy for company boardrooms, offices, and retail storefronts, and can be used both indoors and outdoors.
Perforated Window Decals
A perforated window decal is a printed image or design that is perforated and adhered to a perforated vinyl material. These decals have one-way vision, so you can see outside the window when you're inside your store but not inside when you're approaching it. This is accomplished by puncturing 50% of the vinyl material with micropunctures, which are small holes. These micropunctures are small enough that the decal can keep a high-quality picture on one side while allowing light to pass through on the other.
These decals can be used both indoors and outdoors. Business/storefront advertising, window decor, product promotion, window signs, and branding are some of the most typical applications. They are mostly used to cover full windows, but they also give shade, privacy, and deflect sunlight.
Window Stickers that are Transparent
Opaque window decals are self-adhesive decals that can be applied to any smooth surface, such as a window, glass door, or other smooth surface. These semi-permanent decals can be produced in practically any size and installed without the help of a professional. With appropriate care, opaque window decals can last for years indoors and outdoors, but they can also be simply removed when you're ready for a change.
For putting store hours or advertising a trademark or brand in a window, opaque window decals are ideal. By selecting custom from the form options, all window decals can be cut to the exact outline of the design. You may also choose custom with border in the shape options to have a border around the outline of your design. Your opaque window decal will look beautiful no matter what you choose!
Vinyl Lettering
Letters, numbers, and shapes are individually cut out of a sheet of solid colored, 2-mil vinyl and then pre-spaced and placed onto pre-masked transfer tape with vinyl lettering (the number of transfer tape sheets used will depend on the size of your vinyl lettering and amount of colors used). This enables the lettering to be fitted as a single piece, resulting in a clean and professional appearance.
Glass, windows, walls, storefronts, cars/trucks, and boats are just a few of the surfaces that vinyl writing can be applied on. There are over 30 different colors to pick from in our vinyl lettering, including specialized hues like frosted, fluorescent, gold, and silver. In addition, you can use different colors in your lettering design.
Clear Window Stickers
A clear window decal is an image or graphic that is printed directly onto a sheet of 3 mm vinyl material that is transparent. These decals are transparent in areas where your design is not present, allowing you to display your brand or message on your window, glass door, or storefront without completely blocking your view.
Indoor and outdoor use is possible with clear vinyl window decals. Glass is the perfect surface for them, but they can also be utilized on electrical equipment, refrigerators, aluminum, stainless steel, plastics, or laminated surfaces. Business/storefront advertising, retail locations, showing store hours, window dcor, product promotion, window signage, and office branding are all frequent uses for these decals.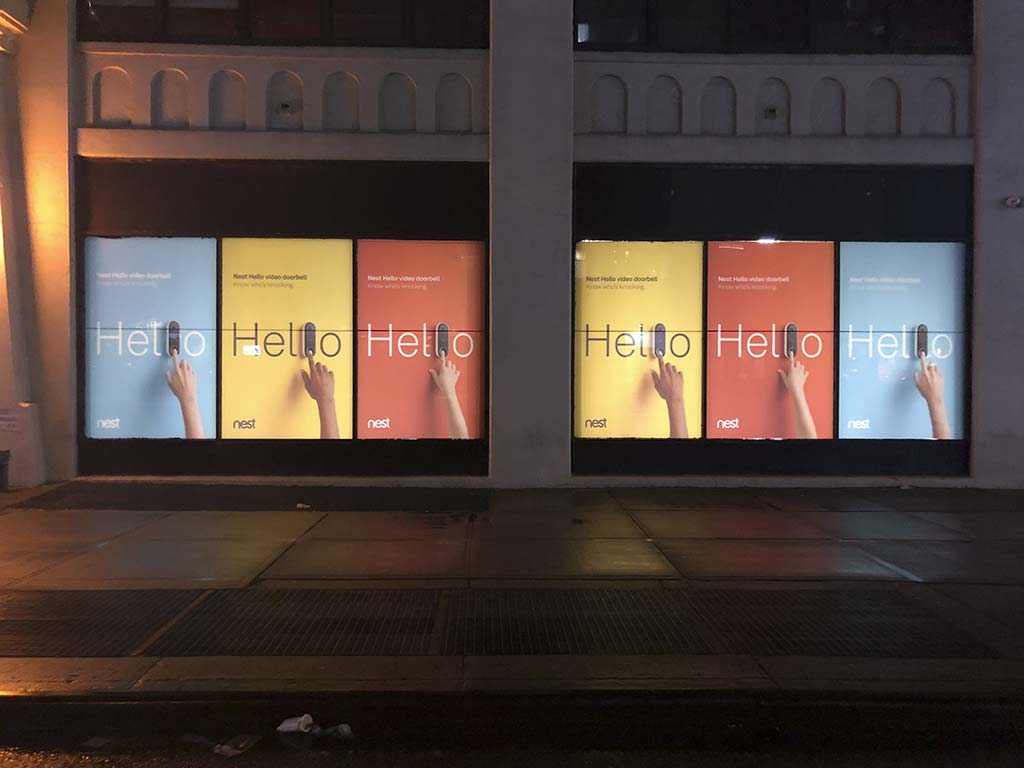 Storescapes Printing & Installation
Storescapes are shop windows, walls, barricades and storefronts that have been converted in to dynamic and eye-catching advertising. Because these windows and walls are at eye-level, they present perfect placement for maximum impact to customers, especially when placed in busy streets and shopping malls. Imagine a billboard at your eye-level – that's a Storescape!
Each and every vacant window is potential advertising for your brand. Gorilla Printing are the experts in large format printing in NYC and we print the widest range of storefront window advertising products including static and digital applications for Storescapes.
Static Storescapes
Static Storescapes can be printed in a variety of products including adhesive vinyl, window clings or posters. Optional backlighting can be added for night-viewing and maximum impact. Using our state-of-the-art printing presses, we can deliver high quality printing results in vibrant colors with extremely fast turnarounds, including same-day printing. We also have talented graphic designers who can help design your campaign right from concept to conception.
Digital Storescapes
Digital Storescapes take your advertising to the next level. Digital signage installed inside your windows. Our digital products include:
projections
video walls (multiple screens)
touch screens,
camera feeds & photo capture
facial recognition & facial morphing
motion tracking, gesture technology and more
Digital Storescapes allow your customers to engage and interact with your advertising right at street level. There is simply no better advertising platform for consumer engagement. Talk to one of our experts today about designing your next advertising campaign using digital Storescapes. We print, design and install wherever your location.