Beautiful large format banners
Our custom printed banners are constructed of 100% vinyl available in either 13oz or 18oz. For added strength and longevity, they're made with a weft inserted knit or an internal scrim, making them suitable for use both indoors and outdoors in all types of weather. Our banners start with the highest quality material and print your design on world-class large format commercial printers utilizing an eco-friendly four-color print process with weather, fade, and abrasion resistant UV ink, resulting in stunning, brilliant colors on your banners.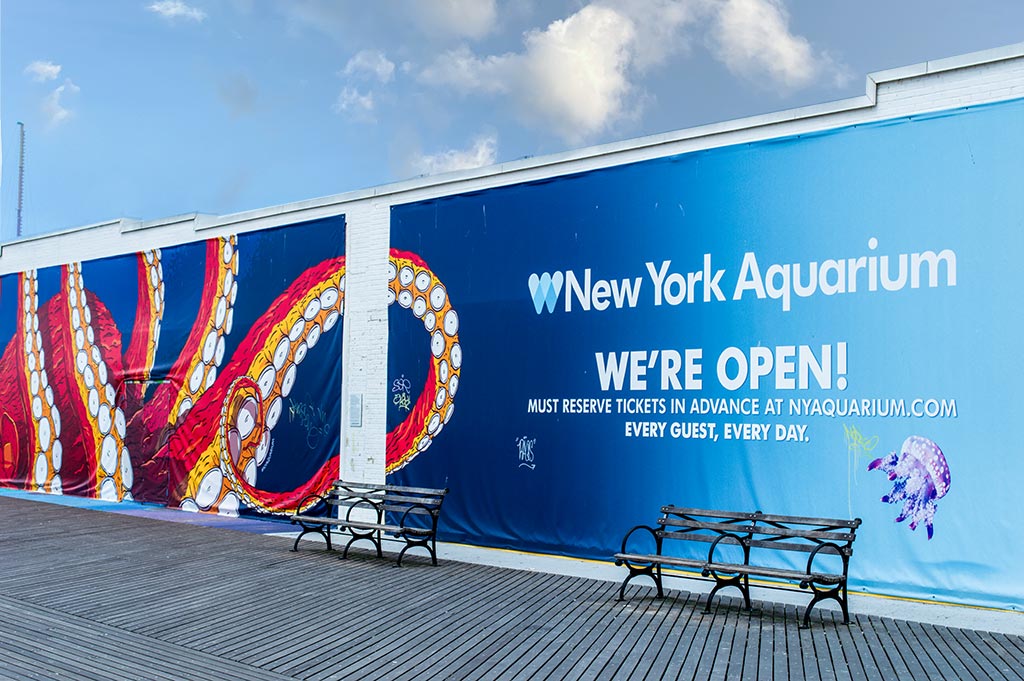 Banner Printing NYC
We understand that time is money, and we hate to keep you waiting. Our banner printing NYC service is second-to-none. Almost all of our vinyl and retractable banners are printed and dispatched the next business day with a huge range of same day banner printing products for those who are really in a rush. Our printing service starts just minutes after you place your order. Are you unsure if you'll enjoy it? Our 100 percent satisfaction guarantee applies to your banner. Do you believe you can get the same product for a lower price anywhere else? We guarantee to match any competitor's price. We've got your back.
Trusted by the world's most recognized brands
We're the printing choice of over 1500 companies & individuals. With +20 years experience in large format printing, OOH campaign printing and service, we're the printing team you've been looking for.
Fast Turnarounds
We offer the widest range of same day printing products in NYC.
Free Shipping
Piece of mind with free UPS delivery throughout USA.
Expert Support
Our team has over 20 years experience in large format printing, campaigns & delivery.
Conveniently located
Pickup directly from our convenient location in Brooklyn, NYC.
FAQs about Our Banners
Do I have to use one of your vinyl banner templates?
While we have developed templates for you to utilize as a starting point, you have three other options if you don't want to use them and want to build your own banner. To begin, select a blank template and begin designing from scratch using our design tool. Second, you can create a banner by uploading your own files. Finally, you can contact us to have something designed for you.
What are the dimensions of your banners? Do you have any other thicknesses available?
Our banners come in two different thicknesses: 13 oz and 18 oz. The most common thickness of material used for outdoor billboards is 13 oz. As a result, it should enough for any outside use. If you still want a thicker banner, the 18 oz gives you more durability for your final product. Simply put, both banners should be suitable for indoor and outdoor use, with remarkable durability and printing clarity.
What's the difference between the 13 oz vinyl banner and the 18 oz vinyl banner?
Though both vinyl banner alternatives provide excellent durability and picture quality, there are a few slight distinctions between them. The 13 oz vinyl is thinner than the 18 oz vinyl, making it lighter and more malleable (which makes it easier to roll). The 13 oz banner is only available as a single-sided banner with a welded hem as standard.
When pole pockets are chosen, however, there is no welded hem. Whether pole pockets are selected or not, the 18 oz vinyl has a double-sided option and does not come with a welded hem.
Do you offer double-sided banner printing?
Yes, we can print banners on both sides. You must select the 18 oz thickness option to print a double-sided banner. Due to variances in the manufacturing material, double sided printing is only available for 18 oz and not 13 oz material.